Meet the Team At Computer Helpers Rushden Repair.
We are Computer Helpers a locally owned, family run company dedicated to upholding the highest standards in onsite computer repairs to desktops, laptops and networks. We have award winning customer service, and have been recognised by numerous organisations for our high standards of customer care.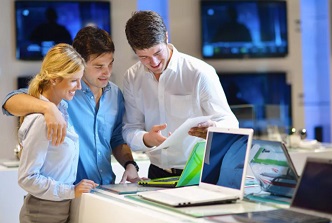 We have supported over 25,000 customers throughout Northamptonshire and continue to grow through recommendations and referrals from our satisfied customer base. We also very much appreciate that when your computer breaks, you don't want to be without it for very long, so if you call our Rushden based repair service on 07914934380 we aim to see you on the same day or next day where possible.
MATURE PROFESSIONAL STAFF
Highly skilled and patient staff who understand your needs. Our dedicated team members have many years of experience and knowledge working with seniors in various fields.
Computer Helpers are dedicated to providing quality customer focused technology training and repairs for older adults to help improve lives and enhance independence. We understand that older adults are eager to engage with new technologies and we are here to help by offering private in-home repairs and computer lessons!
We show our customers how to use their computers, tablets and smart phones. We teach seniors how to explore the internet, stay safe online, stay up-to-date with news, connect with loved ones, shop online and much, much more.
Why are we different?
All of our Tech Tutors love working with clients and are thoroughly vetted and trained to ensure the best experience possible. Our sessions are friendly, fun and relaxed, yet productive. No two sessions are the same, as we truly customize them to each customer's individual needs, questions and interests. We let you set the pace so that stress and frustrations are minimized.
We currently serve the Northamptonshire areas but are available for remote lessons across the country. Feel free to contact us with feedback and suggestions.